Featured
I love hamburgers. Not the fast food kind mind you but a good hamburger.
This article was originally published in Dec 2011 in response to a Massive Typhoon that hit The Philippine Islands. Thank you to everyone that donated in support of the disaster. I have since decided to keep this post as a stand alone page to continue to bring awareness. The Philippines gets several typhoons a year […]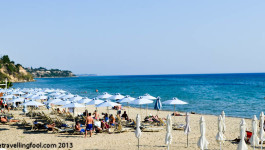 Most People will never travel to the exotic and beautiful places seen in the magazines.
Travel Stories
December 28, 2011 By thetravellingfool 9 Comments
The CEO of TripAdvisor recently stated in an interview the he is skeptical that Google will "do no evil" regarding the search engine giant's movement into the travel industry, but what about TripAdvisor themselves?
Destinations
January 13, 2013 By thetravellingfool 2 Comments
Thessaloniki is the second largest city in Greece and the Capitol of Central Macedonia. Founded in 315 BC by King Cassandre and named after the sister of Alexander the Great, the city is a meld of old world charm and modern city.
Travel Tips
Every year people save in order to take that one memorable trip. Whether it's a one week or a one-month trip you want to make the most of it without any glitches. Unfortunately something usually goes wrong and it can be anything from a small inconvenience to something that can totally ruin your trip. The […]
You don't have to pack these travel accessories on your trip but why wouldn't you? They don't take up much room in your luggage and they make things a lot easier. How many times have you been packing and you start to put that tube of toothpaste in your carry on only to stop and […]
Photos
Some people like tattoos, some classic cars and some motorcycles. Then there are those that like all three.
I look for interesting and unusual things to photograph when traveling and I recently saw these old houses on a trip. The photos were taken on Bantayan Island in the Philippines. These old houses were built in the late 1800′s and early 1900′s and belonged to some of the more wealthy and politically powerful people […]