Featured
On 21 Dec 2012 the world will come to an end. That is if you believe the Mayan Calendar theory. So before the world comes crashing down, here are 5 things you definitely should check out.
I love hamburgers. Not the fast food kind mind you but a good hamburger.
I love traveling to foreign locations. There is just something about experiencing a foreign land. I also love reading blogs and travel sites that talk about traveling to foreign lands. But what do you do if you don't have the time to travel or the money needed for an international trip? Most people don't […]
Travel Stories
August 10, 2012 By thetravellingfool 5 Comments
With all the Travel Blogs and Sites to choose from there is something for everyone.  I read a lot of travel blogs and follow some very good travel sites. There are basically five types of travel sites.
Destinations
March 21, 2012 By thetravellingfool 5 Comments
The following is a guest post from Julia over at The Epic Adventurer Backpacking in Europe is almost a cliché in the travel world — so many folks have done it that it can seem difficult to forge your own path as a traveler, to see new places and experience new things.   But for many, […]
Travel Tips
You don't have to pack these travel accessories on your trip but why wouldn't you? They don't take up much room in your luggage and they make things a lot easier. How many times have you been packing and you start to put that tube of toothpaste in your carry on only to stop and […]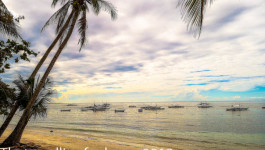 It is possible to travel without going broke. I know because I manage to travel quite a bit compared to a lot of people.
Photos
Some people like tattoos, some classic cars and some motorcycles. Then there are those that like all three.
I look for interesting and unusual things to photograph when traveling and I recently saw these old houses on a trip. The photos were taken on Bantayan Island in the Philippines. These old houses were built in the late 1800′s and early 1900′s and belonged to some of the more wealthy and politically powerful people […]