Featured
I love hamburgers. Not the fast food kind mind you but a good hamburger.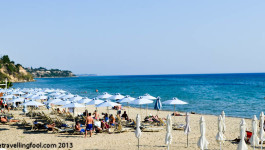 Most People will never travel to the exotic and beautiful places seen in the magazines.
Awhile back I wrote  a tongue in cheek post about Tourists and how to Spot them. So to be fair I now present you with Travel bloggers and how to spot them.
Travel Stories
March 5, 2012 By thetravellingfool Leave a Comment
These are a few more blogs I enjoy reading and hope you do also. Some of the blogs I profile are well known with a loyal following and some may be new to you. Bald Hiker Paul Steele is an Englishman with a passion for travel and hiking worldwide. Whether it be in the UK, […]
Destinations
July 12, 2012 By thetravellingfool 5 Comments
That's right Marlboro isn't just for crusty old guys sitting at a bar nursing a drink. No sir, Marlboro is a fun family outing.
Travel Tips
Every year people save in order to take that one memorable trip. Whether it's a one week or a one-month trip you want to make the most of it without any glitches. Unfortunately something usually goes wrong and it can be anything from a small inconvenience to something that can totally ruin your trip. The […]
You don't have to pack these travel accessories on your trip but why wouldn't you? They don't take up much room in your luggage and they make things a lot easier. How many times have you been packing and you start to put that tube of toothpaste in your carry on only to stop and […]
Photos
Some people like tattoos, some classic cars and some motorcycles. Then there are those that like all three.
I look for interesting and unusual things to photograph when traveling and I recently saw these old houses on a trip. The photos were taken on Bantayan Island in the Philippines. These old houses were built in the late 1800′s and early 1900′s and belonged to some of the more wealthy and politically powerful people […]