Home
Featured
Every once in while you find a hidden gem, an island where there are not many tourists and you can experience the true island life. I have traveled around a lot in the Philippines and have been to some pretty neat places but when I decided to visit Bantayan Island off the coast of Cebu […]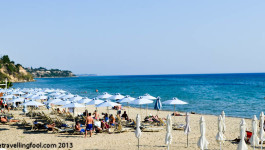 Most People will never travel to the exotic and beautiful places seen in the magazines.
All inclusive vacations as a market are expected to grow through 2017.
Travel Stories
September 16, 2012 By thetravellingfool 4 Comments
There are the obvious benefits of free (or deeply discounted) lodging and food. These are terrific benefits, though in truth you are working, in some places harder than others for them. There are other benefits which are far greater and valuable.
Destinations
May 30, 2013 By thetravellingfool 9 Comments
Many civilizations have left their mark on Greece over the years and it's this legacy that continues to spark the imagination and bring in travellers from across the globe to its sun-blessed shores.
Travel Tips
Travel would be much more enjoyable if it weren't for having to book a flight and put up with the actual flying part of the trip.
Are you tired of crappy airline service, long lines, flight delays and people who give the impression they could care less?
Photos
All I can say is they must be pretty smart kids.
Some people like tattoos, some classic cars and some motorcycles. Then there are those that like all three.